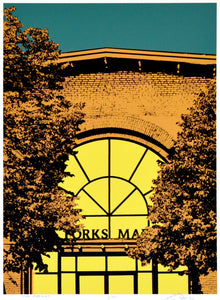 FRAMED "The Market"
Part of a series I did in collaboration with Pulse Gallery at The Forks Winnipeg.  It's a smaller piece at just over 11 inches wide by 16 inches tall and highlights one of the stone structures on the historic site.

11 x 16 in
FRAMED Screenprint on paper - mohawk #80 cover - white
Limited edition of 20
(2020)
* All my prints are hand pulled, therefore will have some variation to image shown. The nature of screen printing means that no two prints are identical.